---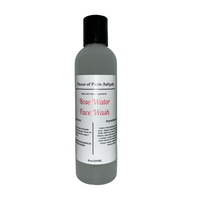 A must have toner
I absolutely love the toner. When I have bumps I apply the toner by the next day it's gone.
I FREAKING LOVE THIS PRODUCT!!!
First of All!! After I do my skin regime with the wash, toner and the skin flow oil, my husband thinks I have on makeup!!!.
I loooooooove the way my skin feel and it looks sooooo healthy and RICH!!!.
I AM A LIFETIME CUSTOMER!!!!
Our  Water Water Facial Cleanser Rose is a great additive to your skincare regimen. Excellent for most skin types including sensitive skin. Not only does the cleanser have a wonderful light smell of rose if helps to help to gently cleanse skin, removing all traces of makeup and help keep skin balanced. Follow up with the Rose Water toner then skin is prepped for serums, moisturizers and then your makeup.
 Benefits of Rose Water:
Rose water can help to remove impurities and set your skin up for success. It cleanses and leaves skin looking refreshed, making it an excellent addition to your natural skin routine. It is gentle enough for all skin types including sensitive skin.
It helps to naturally hydrate your skin

It can help to unclog pores and create a smoother looking appearance

It can help minimize the appearance of large pores

It can temporarily tighten your skin
**DISCLAIMER: Products, claims and/or statements presented have not been evaluated by the Food & Drug Administration and are not intended to diagnose, treat, cure or prevent disease. Information provided is for educational purposes only. Our products are not intended to diagnose, treat, cure or prevent any illness or disease. Anyone suffering from any disease, illness or injury should consult with a competent healer or physician.