---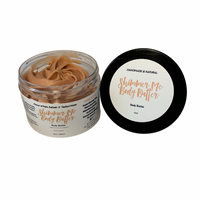 Bring back to old body butter please!
It's okay , it's way too whipped for me I however loved the 1st batch I bought it was more of a Shea/ cocoa butter fee and it smelled so good but the one I recently purchased is so whipped without any fragrance. Don't get me wrong I'm definitely still purchasing more I love the product 💕
Smooth as Silk
OMGOSH I AM IN LOVE with this Body Butter. It feels as smooth as silk and smells like heaven. The gold flakes tops off the feeling and scent with the look of glow. I am getting this FOREVA!
My favorite
This shimmer body butter adds so much glow to my skin and smells amazing.
"Shimmer me" body butter
This product is amazing! I wore it out to brunch with my new top, and I was shining like a star! Can't wait to put it on when I go to the beach! 🥰
Body butters are also known to be more effective at nourishing and rejuvenating dry skin, whether used all over or only on problem patches. The great thing about this butter is it leaves an instant glow on your skin that looks so luxurious. If your headed to the beach, date night, or doing a photoshoot this is going to be a must have. 


The best way to use a body butter is to apply it after your daily shower or bath. Pat your body dry with a towel. Leave a little moisturise on your skin and do not rub or dry your skin completely. Then, apply a generous scoop of body butter directly to your skin and gently massage into skin using firm, broad strokes until full absorbed.