---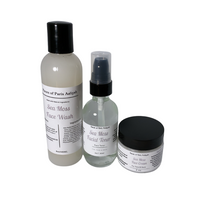 Love love love this set
I just love the Sea moss kit it's my favorite, i
literally get compliments on my skin so much! It's not loaded with chemicals, it's simple directions to follow, and let's not forget to mention it doesn't require you to use a lot lol…. it last so long, it's literally ALL i use!
The Sea Moss Facial Set is a must have for your skincare routine. By now you have heard of all of the benefits of Sea Moss for health and wellness. So it's no surprise that Sea Moss is now the go too for skincare as well. Since it's high in minerals and vitamins, it can be soothing for inflammatory skin conditions such as eczema and psoriasis. Sea moss can also be useful to people who suffer from acne or oily skin.


*Great for mostly all skin types including sensitive